How do I complete CINT surveys?
CINT is one of the most popular ways to fast track your earnings and to get your first cash out. Users earn points based on the length of the surveys.

Earn up to $10 or 10,000 points for each survey completion. CINT surveys can be completed unlimited times daily.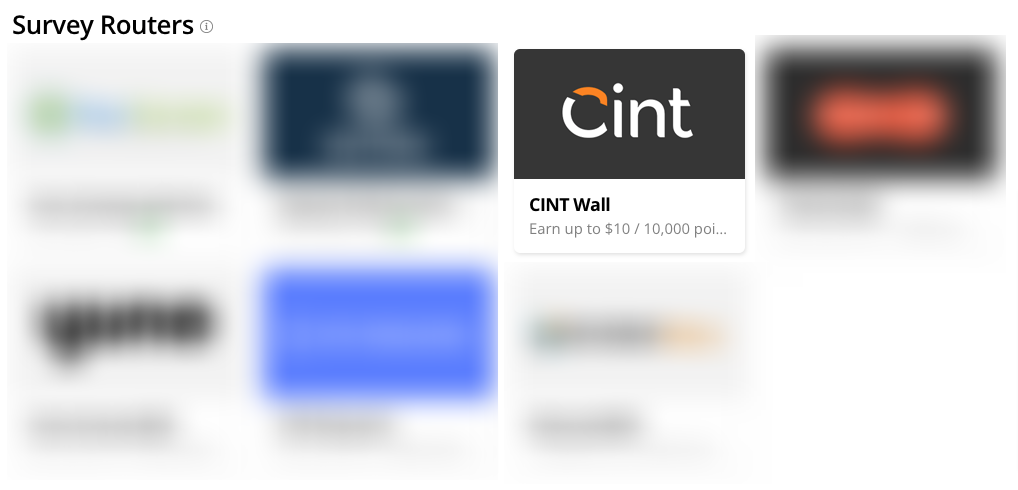 Step 1 - How to Get Started
To access CINT wall, you must do the following:
Login to ZoomBucks.
Complete your About Me section first under My Account. Provide the basic information needed to match with qualified surveys.
Make sure to add your birthday, gender, and zip code to your profile as well.
Click the CINT Wall tile in the member's area and see a list of surveys that targets your demographics. You can also visit the surveys page and scroll to the bottom of the page to see CINT surveys.


Step 2 - Fill out Your Demographics
CINT Wall is a survey wall. You must make sure that your birthdate, gender and zip are completed in your profile to see the available surveys. Ensure that you have also filled out the About Me section to access more qualified surveys.
Unlike survey routers, you won't get rerouted directly to qualified surveys. Instead, you see a listing of surveys where you can choose which ones to take. The number of points you can earn is listed beside the survey.
All surveys have a maximum number of completions. Make sure to refresh and answer as much as possible to maximize your earnings.
Step 3 - Complete Surveys and Earn Points
Each survey completion can earn you up to $10 or 10,000 points. After you have completed a survey, you will receive the equivalent credit within 10 minutes. Once you have earned at least 5,150 points, head over to our Rewards Store to redeem a reward.
The list of surveys shows the estimated time to complete and the amount of points you can earn. You can select any of the surveys depending on your strategy to earn points.
Tips and Tricks
Don't try to game the surveys and give false information to access more surveys. That may result to ban or account suspension.
Complete your profile to access more surveys.
Surveys get refreshed every 10 minutes. Check regularly so you can answer more surveys.
Enable browser notification and check email often to see the latest qualified surveys.
Check Live Feed and the Leaderboard to get updated on which providers have inventory.
Take your time answering surveys so you can provide useful insights.